Dave had so much fun camping the other night, that he and his friend Bill decided that the wives and girls needed to come out there, too. So, they came back home to get us (after waiting hours for the tide to come in because their boat got beached-- it's a boat access only island where we were staying) and we headed out for
Hope Island
.
View from the beach
The path we took from the beach to get to our camp site
And the path from the other beach to our campsite, which curved around and lead us to the caretaker's cabin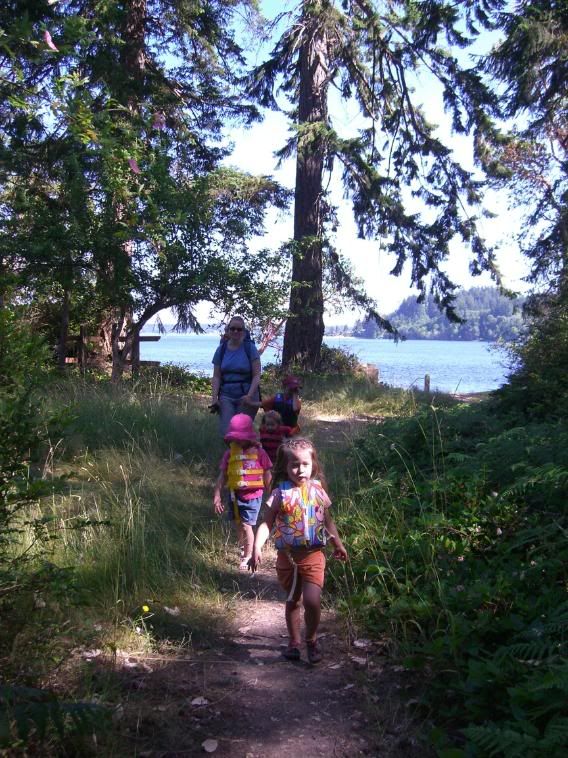 We didn't leave until probably 5, so by the time we even reached the island it was about 6 or so. Fortunately it is very nearby-- We had to unpack, cook dinner, and entertain the kids. I purposefully didn't bring any toys because going camping was its own fun. Plus Lacy had her BFF there with her, and Rose usually just tags along with them anyway, so toys were really a non issue anyway.
For dinner we were supposed to have pork chops, but they weren't thawed, so we had hot dogs and bratwursts instead (which was supposed to be in addition to the chops). Fortunately there were a ton, so we all ate our fill of processed meat-type product. We didn't have any plates, so we used bowls instead. After dinner, we took a little walk. We ended up seeing a deer eat from an apple tree, and talking to the caretaker. We talked for about 20 minutes or so, and Lacy fell asleep in Dave's arms. That surprised me! We went back home and got her ready for bed, had spiritual time, and she was out in about 10 minutes.
This is the path through the orchard that took us to the very important outhouse and the caretaker's cabin.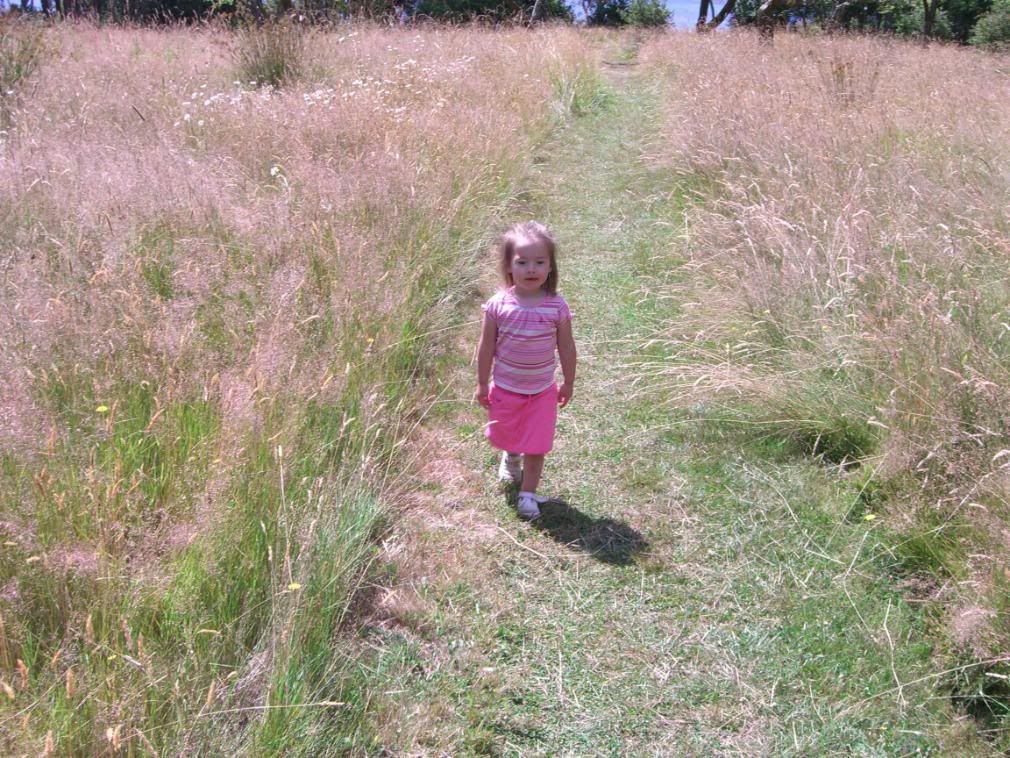 The buck we saw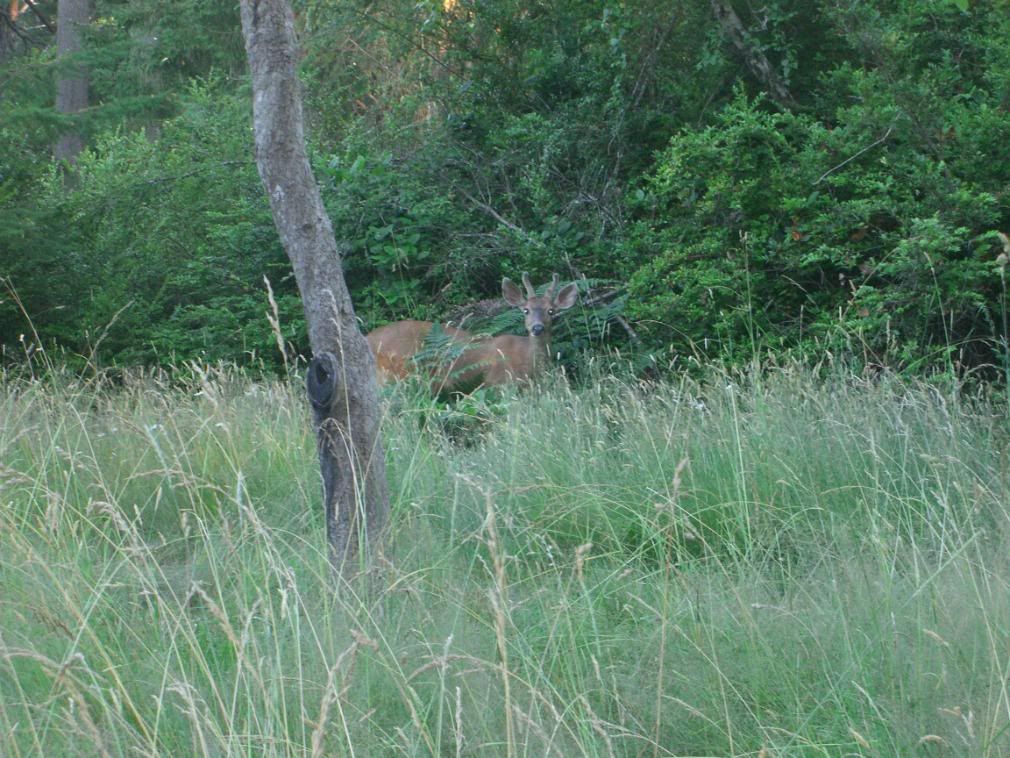 A doe we saw on the way back
View from the other beach at sunset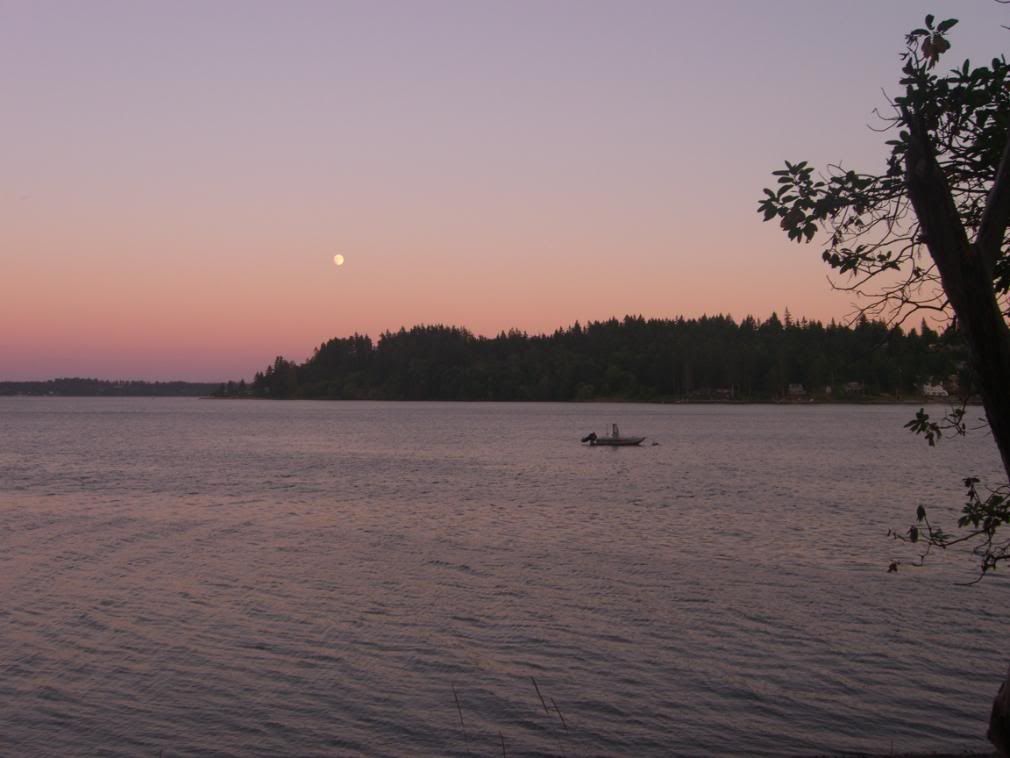 Rose on the other hand was wired. I tried nursing her to sleep lying down, but that didn't work. She was WILD. So we went for a little walk and watched the full moon sparkle on the ocean and sang, "Moon, Moon, Moon." It was magical. Until I spotted someone going onto our very secluded campsite. That made me uneasy. I found out later that some teenaged boys staying at another campsite were playing flashlight tag. Whatever that is.
Eventually, Rose fell asleep and I got to go out with the big kids and chat. Well, Emily and I chatted mostly and the guys chased raccoons. With BB guns. But they only aimed for the rear ends. Or, that's what they told me anyway. At least they weren't using rocks this time. Crazy guys. I think they seriously scared a few, because there was a lot less raccoon activity last night than the night before (according to Dave). I did hear raccoons fighting, which is kind of freaky sounding. It's kind of like listening to cats fight, only a lot louder and with more thrashing around.
Dave spotted a porcupine that night, took pictures (and some even turned out!), and took me out to see it. He also took a couple boys out to see it from the other group earlier, while I was attempting to put Rose down. The boys he took earlier were taking more boys to see it after Dave and I got there. It got scared and started dropping quills, after Dave warned the kids to back away from it. Once they actually listened to Dave, it stopped dropping quills. It was hiding up in an apple tree in the orchard. This is about as good as we could do with a photo of the porcupine.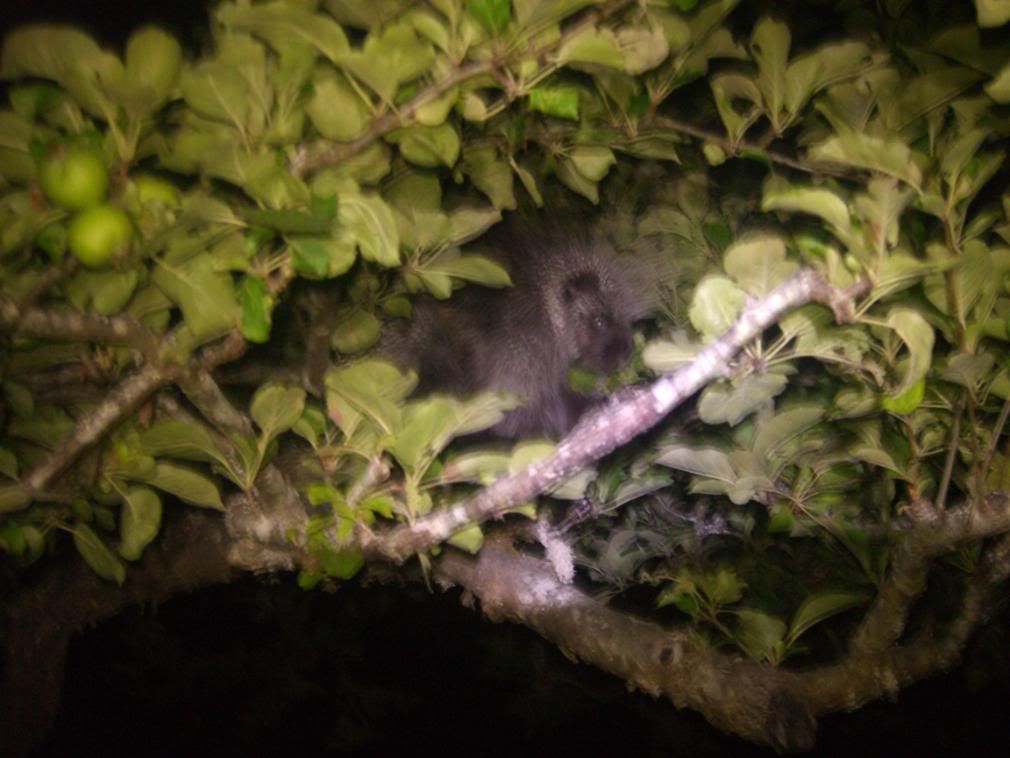 I had trouble sleeping last night because I had to take some allergy medicine, but evidently I did sleep because Emily claimed I snored. I don't remember sleeping much at all last night, and I woke up very early a few times. Plus the girls got up with the sun, so I was tired this morning. We had a lot of morning cloud cover, and after eating instant oatmeal for breakfast (we even had spoons!), I crawled back under the covers and tried ignoring my kids for a few minutes so I could get warm under the sleeping bag. They didn't ignore me, though, and I was more like a human trampoline than a sleep. Eventually the clouds burned off and I warmed up. We took a nice little hike around the island and enjoyed the beautiful scenery. It was just gorgeous. So secluded and lovely.
We played on the beach looking for critters during low tide. There are so many crabs and oysters just sitting on the beach at low tide. There are also lots of sea stars and jellyfish. It was really fun seeing so much wildlife.
Jellyfish on land...
And in the water...
Blue Herron
Bald Eagle
Catch of the day? Nah, throw it back.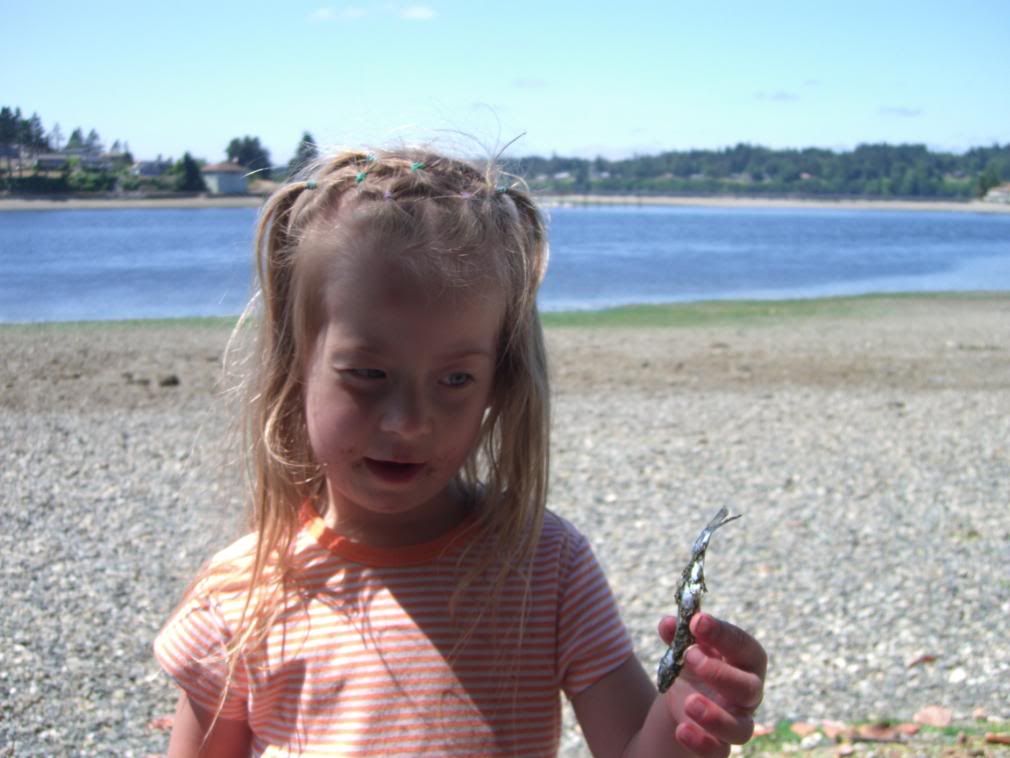 A dead crab. Lacy loved it.
Critter hunting boys... not sure where Dave was during all this, but he was out with the rest of them at some point!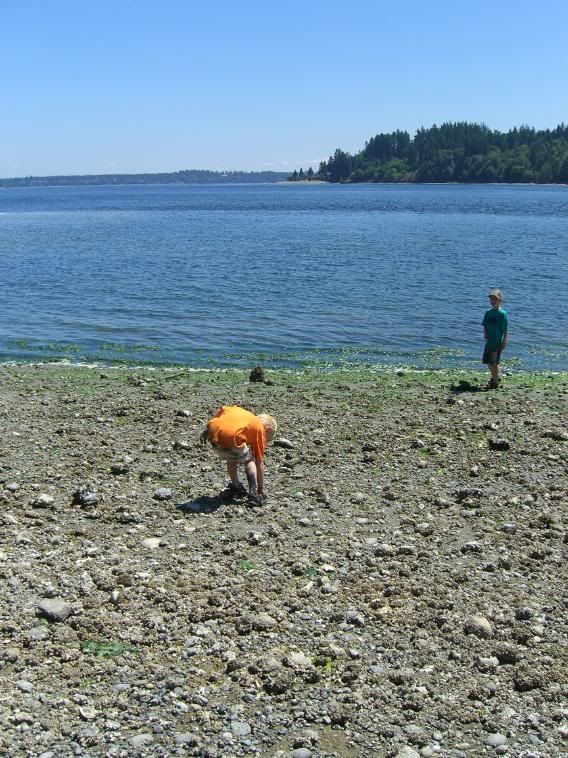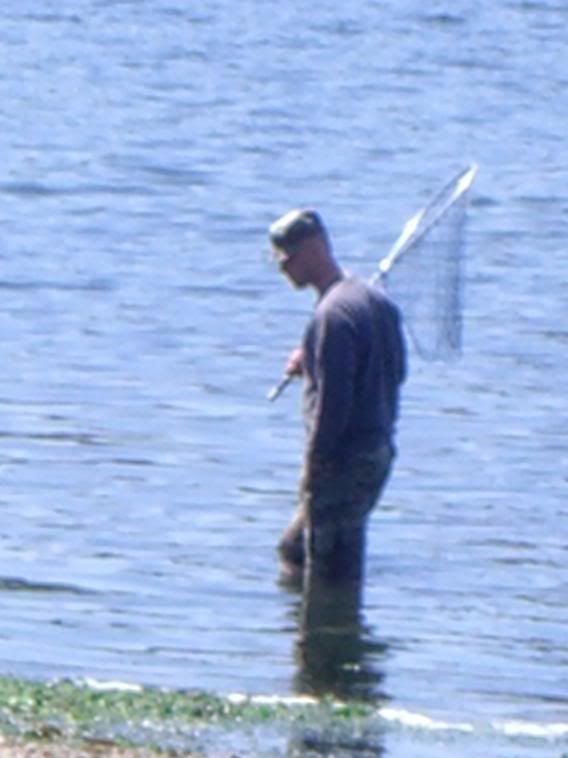 And when we weren't looking for critters, we were looking for rocks, throwing rocks in the water, relaxing, or just having fun.
Yes, Rose's pants are down. I'm not sure why.
Lacy and Wynnie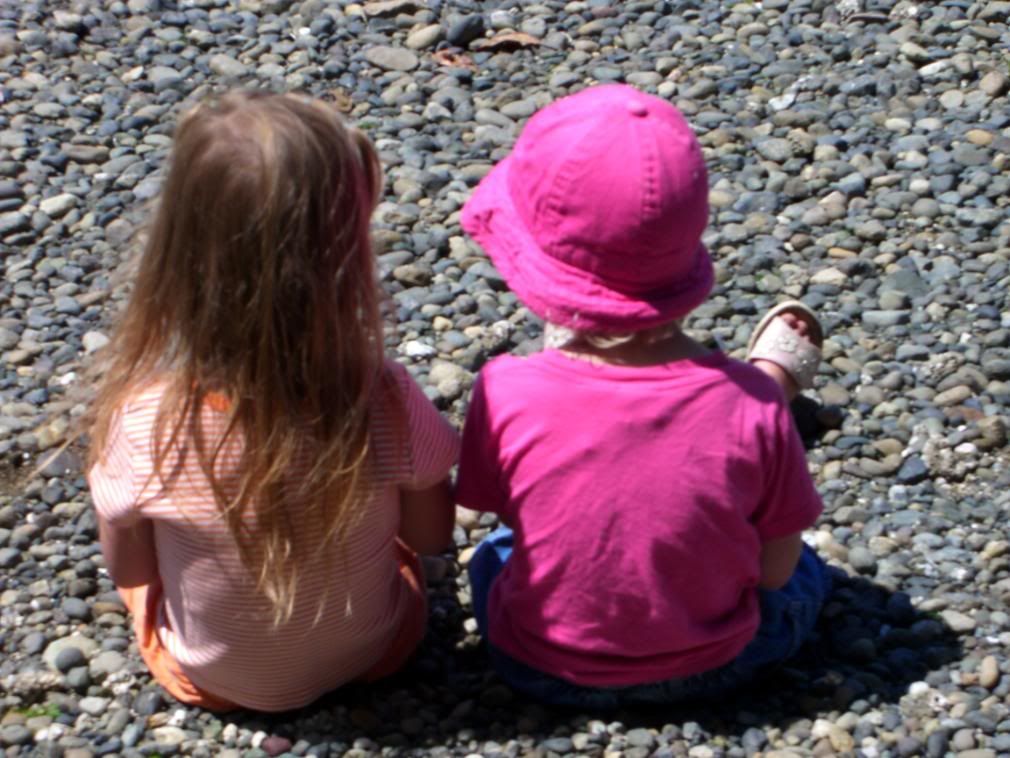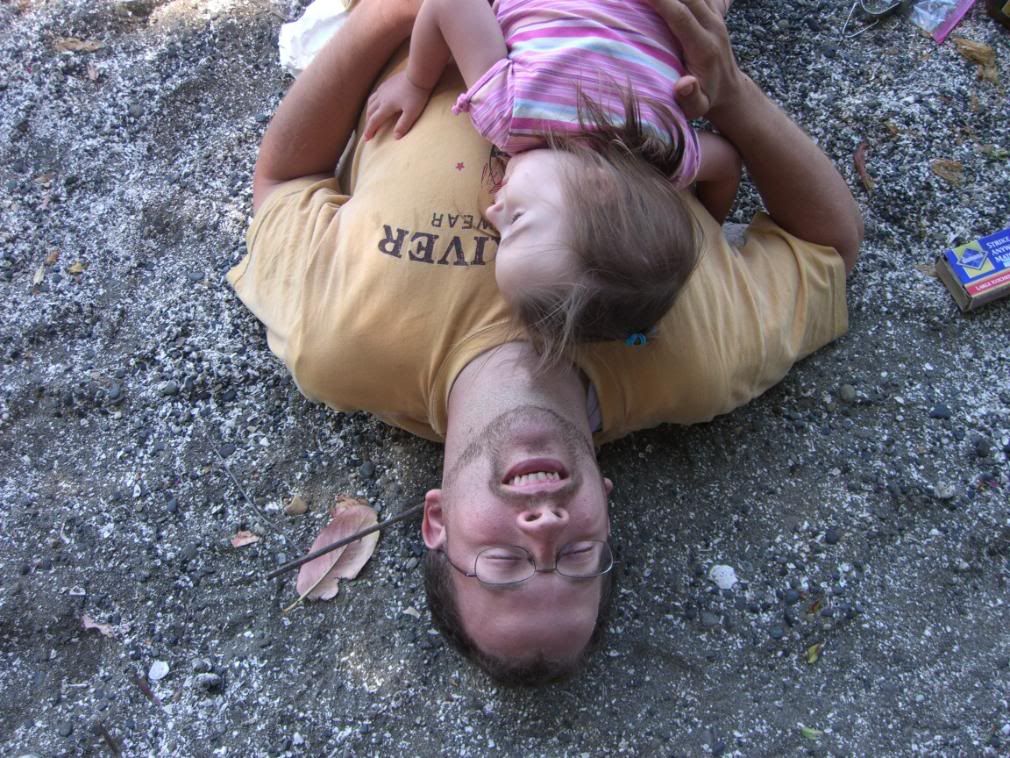 Rose's favorite activity: throwing rocks in the water.
Lacy climbed the tree while Wynnie posed for me. I swear, every other picture I have of Wynnie she is doing some bizarre pose.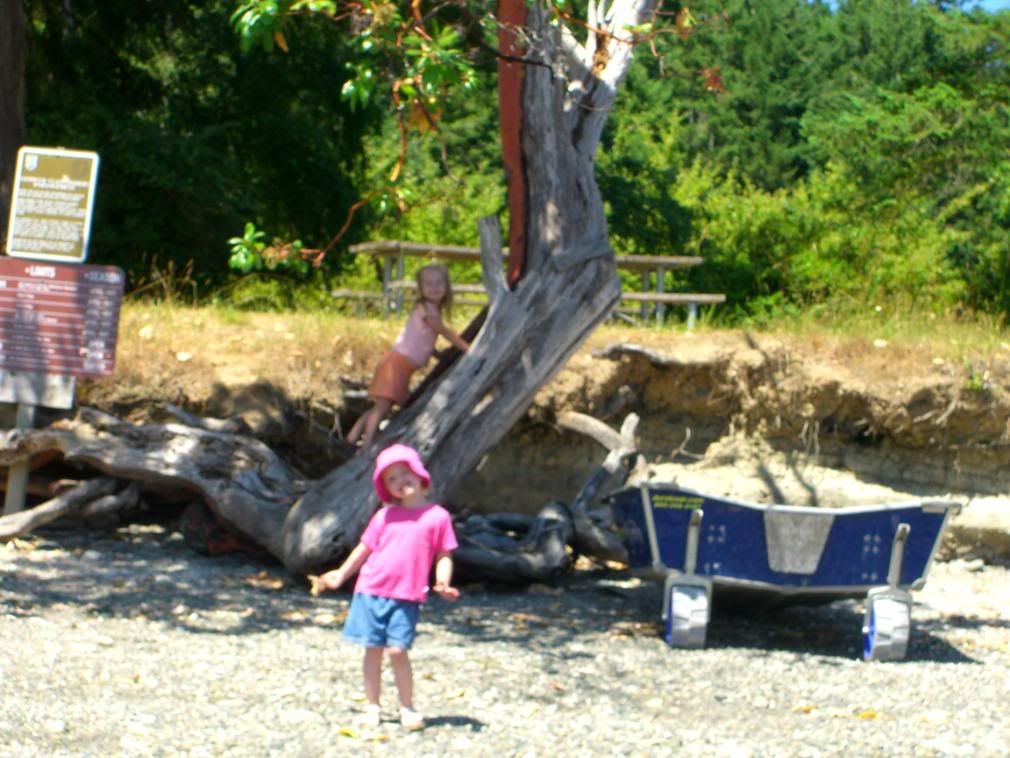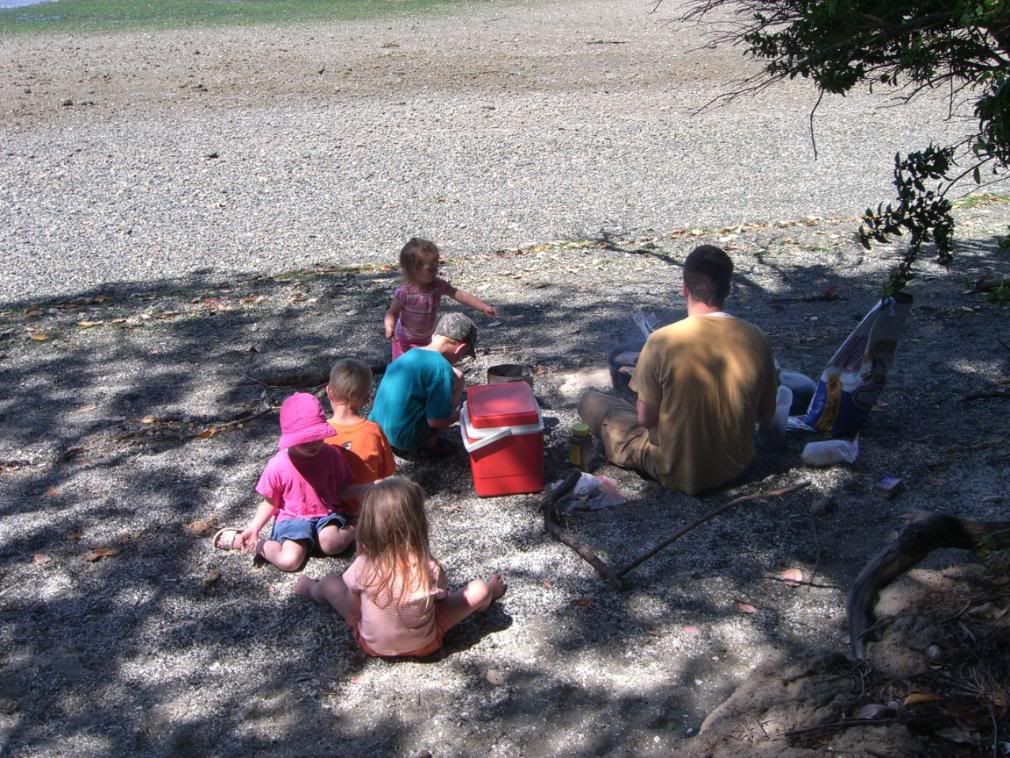 And proof that Esme actually did come on the campout with us: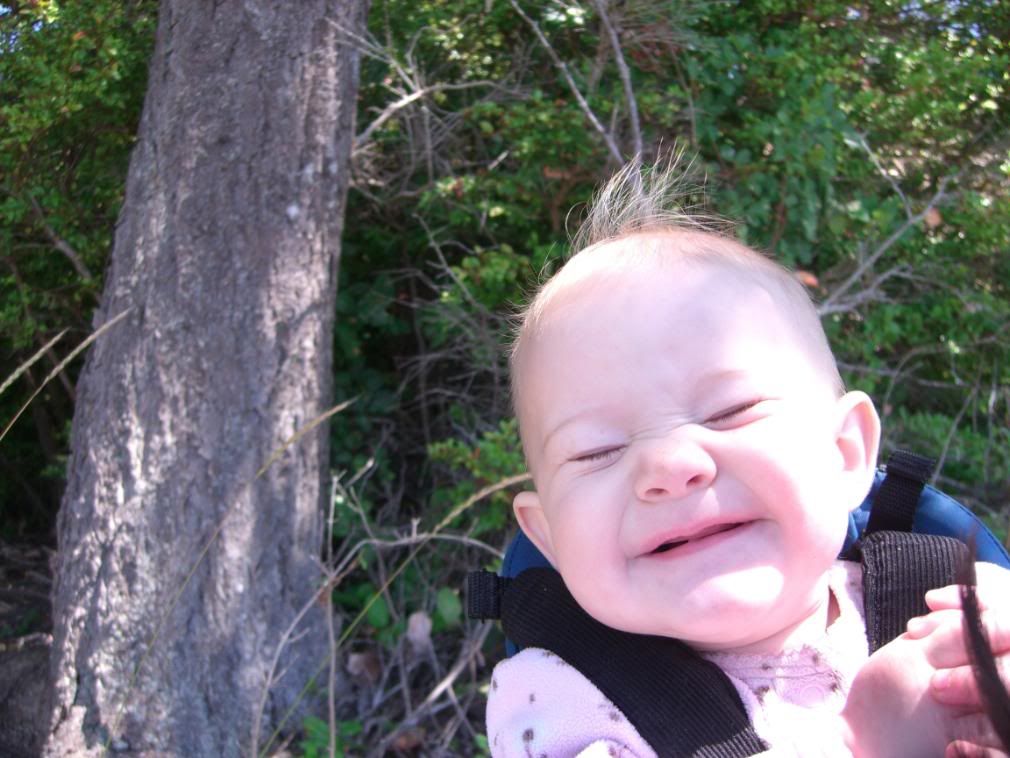 We BBQed our hot dogs and pork chops on the beach because there are no fires allowed on the campgrounds. Because we could only take boats, we had little room for extra stuff, so we didn't bring the BBQ's legs. We didn't have plates, so we just held them by the bone and ate them. I guess we were "man camping" as Emily called it, except I had an airbed.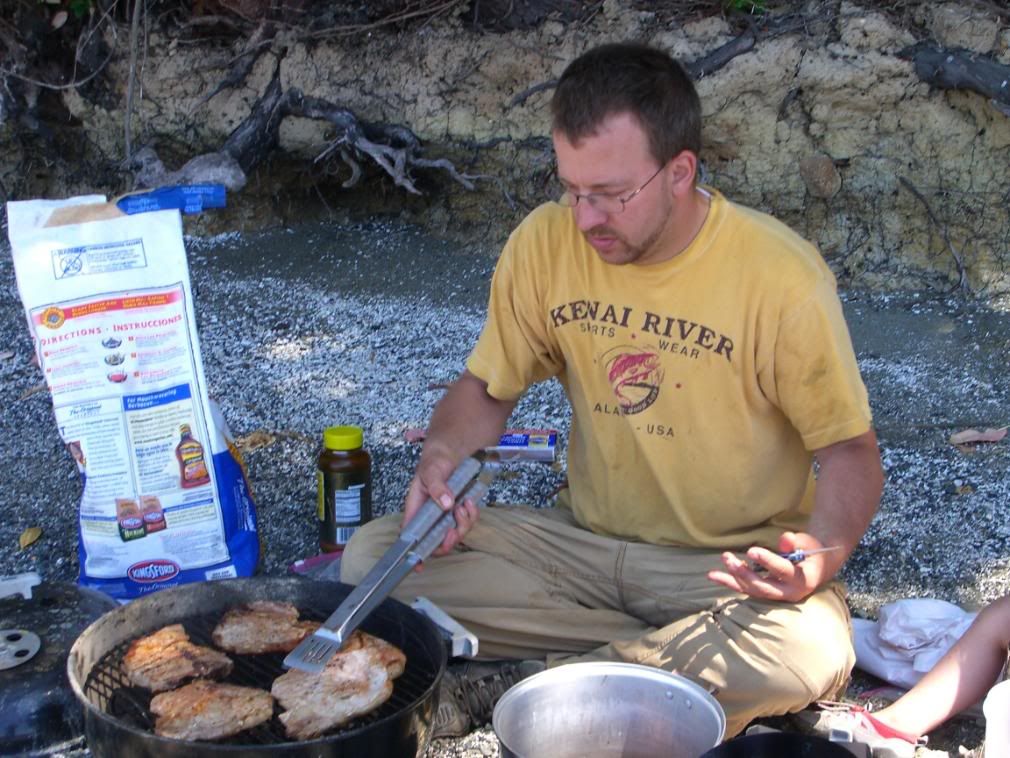 All good things have to come to an end, and we packed out around 5 or so and boated back to Arcadia Point.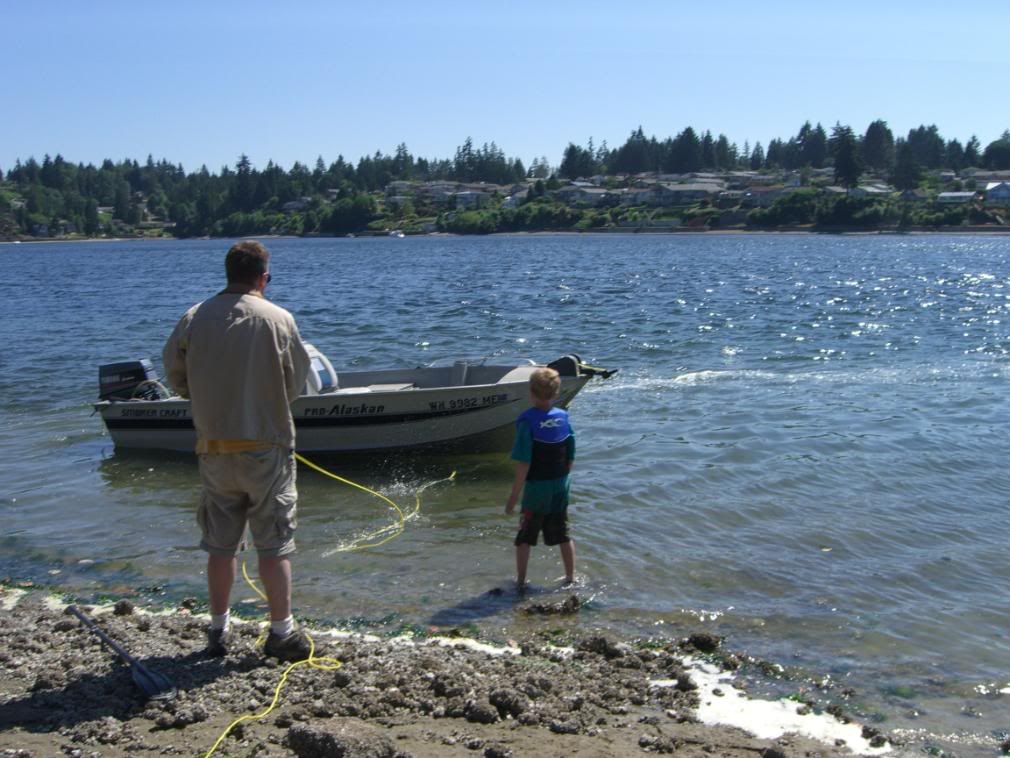 Lacy fell asleep on the way home, and I struggled to keep Rose awake. They both went to bed fairly early today, thankfully. Tomorrow we have a 10 o'clock playdate, so hopefully they'll be plenty rested for that!
Dave is going
geoducking
tomorrow to earn a little cash while he's between jobs. I'm sure he's very sad he has to go. We do have some positive news on the job front-- in about two months, a job will probably be opening in OLYMPIA that is full time for 18 months! And we're hoping that soon a company that Dave has a great reputation at will be getting a contract with a state building and Dave will be on that project until this new Olympia job starts. Please keep us in your prayers!