One of my favorite flavors is fresh basil. Too bad I can't make it grow. I eat the heck out of basil.
RIP Basil. I didn't even get it into the ground before it died this time.
So I was excited to see the
Green Powerhouse Pesto Plate
on
Oh She Glows
. Doesn't it look yummy?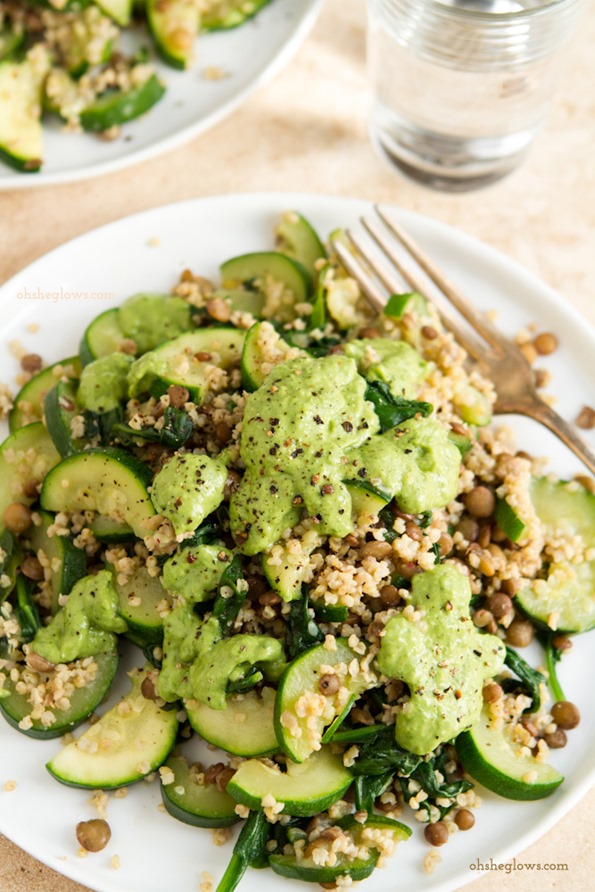 Yum, right?
What I liked about the meal was that it uses millet! I don't often get to use millet, and when I do use it, it is ground up as flour and baked. Also: basil! The dressing was a pesto-type dressing made with avocado and basil. Yum!
Dave and I loved this meal. So good! I thought the dressing was a bit too lemony, so I ended up adding a handful of pine nuts in the blender with the dressing to mellow it out a bit. I will add only one tablespoon of lemon when I make this in the future. And I will make this again when my zucchini is producing like crazy!
I like to make desserts on Mondays (for Family Home Evening, our family night). I found this recipe on
Whole New Mom
which linked me back to
Oatmeal With a Fork
where I found this recipe for
Lemon Bars
. These aren't just any lemon bars- they are grain-free, vegan and raw. WHAT? Oh my goodness! I can feed that to everyone in my family! Not only am I vegan, but my husband is allergic to wheat and several other foods, and all three kids are allergic to eggs and a few other things (and we have hens. So Dave eats the eggs by himself). So life gets a bit complicated around here. I get super excited when I find a food that is safe, or easily adaptable, for my family. And even this had to be slightly adapted for my family's allergy needs.
I saw this picture and I had to make it.
Normally I like making things fat free. It's part of the whole Eat to Live philosophy. These are not fat free. Nor can they be adaptable to be fat free. The delicious lemony topping? Made from mostly coconut oil.
But boy, are they good! I think I can splurge once in a while on something so delicious. Especially since it's become necessary to hike up my pants lately. I think I need to add a belt. But I'm not buying new pants until I've lost the 40 pounds I intend to lose. Well, I might buy them when I have lost 30 pounds.
Anyway, I ended up having to use hazelnuts because my husband is allergic to walnuts and my daughter is allergic to pecans, which is the substitute I used to use when recipes called for walnuts. Hazelnuts were a good substitute and they turned out great. I added a couple pinches of turmeric so my lemon bars were quite a bit more yellow. Actually I added what I needed and the 3 year old decided he really would be disappointed if he didn't get to help, and I'm a sucker for his cute face so we added extra.
They were rich, to be sure, and not one of my kids could finish their entire bar. So instead of having my own bar, I just finished up theirs. I'll make this again when I have lemons. Well, maybe I'll wait until I drop another 10 pounds before making this again! Indulgent? Yes. But worth it for a little bit of bliss! And certainly healthier than ice cream, right?