We have some lovely wild roses blooming in our back yard by our blackberry bushes. Dave picked a few for Lacy, who played "flower girl" and spread petals all over the house. Wild roses smell extraordinarily lovely, so I showed Rose how to smell some of the petals. She didn't exactly get it.
Then again, she just loves putting things in her nose. Usually it's her finger, but lately it has been air soft pellets at my sister's house. Great times!
Dave today cleaned up the church. While he was there, there was a big crew cleaning up the church grounds. They trimmed a few huckleberry bushes, and instead of picking the berries and bringing them home, he took the whole branches with him. Dave came home around 10, and Lacy watched from the window excitedly. "Huckle! Huckle! Huckleberries!"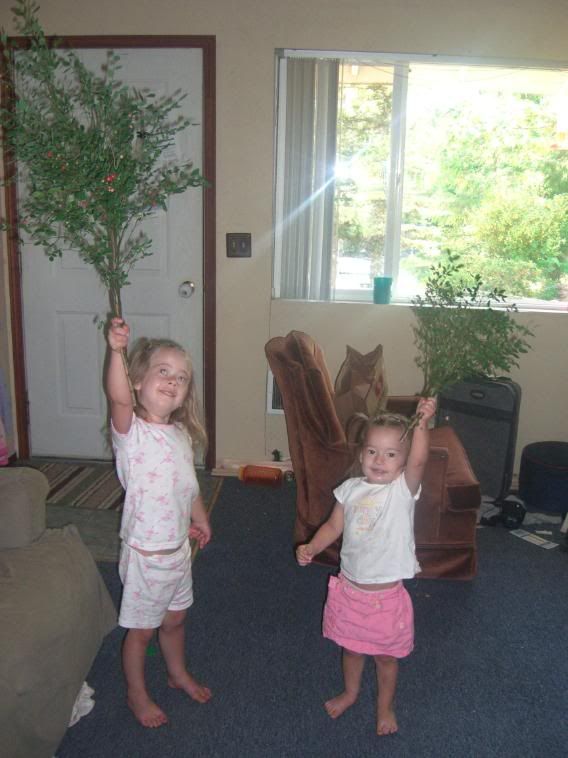 Lacy and her best friend Wynnie the other day had a little too much fun with the clothespins.
Lacy and Wynnie are so cute together. They love playing together and the first thing they do is strip off their clothes and try on just about every single thing in the closet. And in the drawers. And in the dress up bin. They love playing this way, and they generally have great times together. But we sure are in for it when they're teenagers! I'm going to have to have a strict rule of buying your own clothes, otherwise we'll go broke. We have a couple of budding fashionistas on our hands!