This was the girls' big Christmas present. And boy, it was a whole lot bigger than what I expected when I picked it out from the Toys R Us ad! It barely fit in the living room. When the girls are playing with it in their room, it doesn't fit, and actually bends on one side from a chair in the way. But they make do, and put their tiny toy kitchen on the chair (there's a window so they can reach into it!) and call it their kitchen! OK, maybe their 7 year old friend Hannah, who came over today, taught them that, but it sure was cleaver. Anyway, this is our living room, all ready for the girls. Santa doesn't wrap presents in our house. It was fun to just have them run into the living room and immediately start playing with all their new toys! They didn't get a ton, and I got a lot of great deals, so I think we did pretty good this Christmas.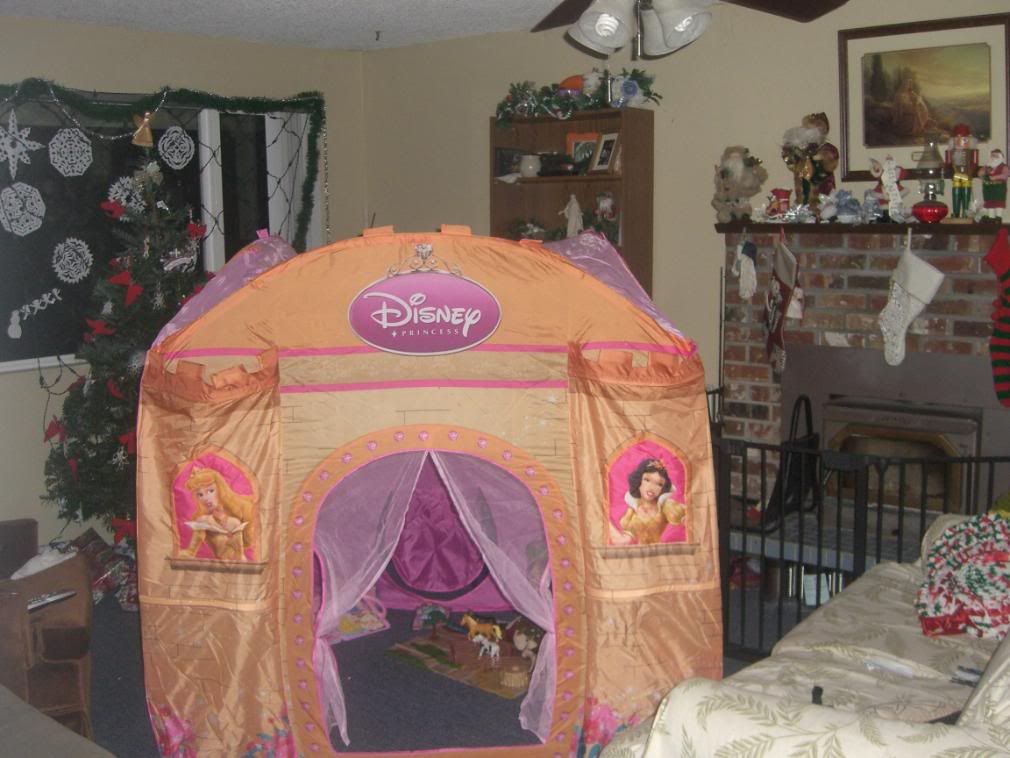 The inside of the tent. Lacy got a magnentic paper doll set (Cinderella of course), binoculars, a jewelry box, and a few other things in her stocking. Rose got the animal sets, toy cars, and some books. They both got an Ariel night light.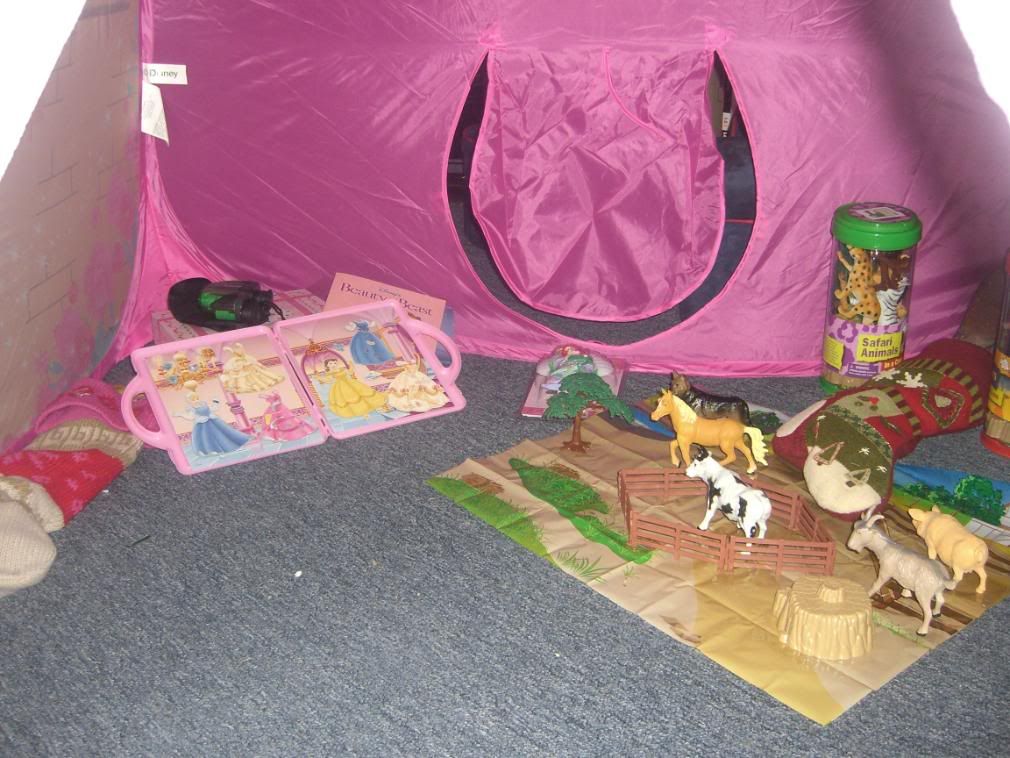 Lacy was sound asleep, and I needed her to wake up so we could get started with our day. She would not move. But once I said, "I think Santa came!" she popped right up, and started running down the hall! I had to stop her so I could take a picture!
Our Christmas tree with all the presents under it. I only added them the night of Christmas Eve because Rose would try to open them all! But they were in the closet and Lacy saw them for about a week before they were under the tree. I would frequently find her hiding in the closet, just admiring the presents. She's such a silly girl! Anyway, even though she knew they were there for a while, she still thinks all the presents she got were from Santa!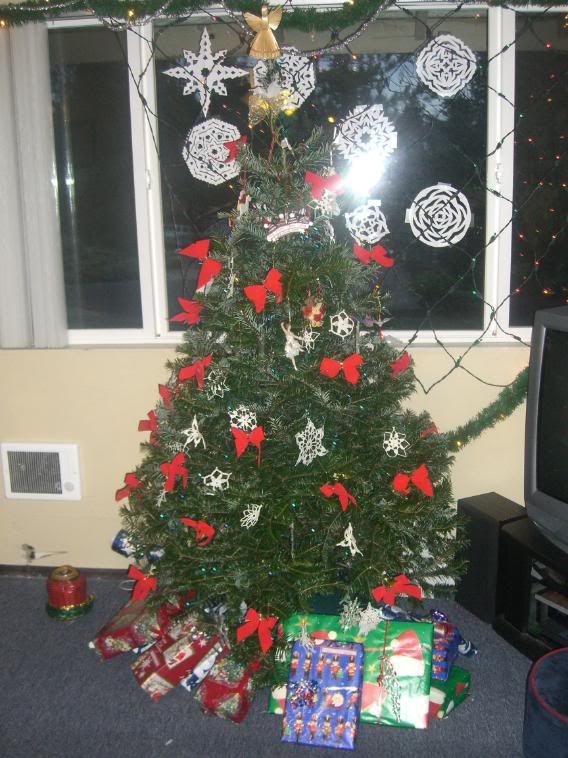 The girls playing with their new toys. They loved what they got!
Look, Mom! Santa brought a banana! Of course Santa can't be you guys, because Dad's allergic to bananas!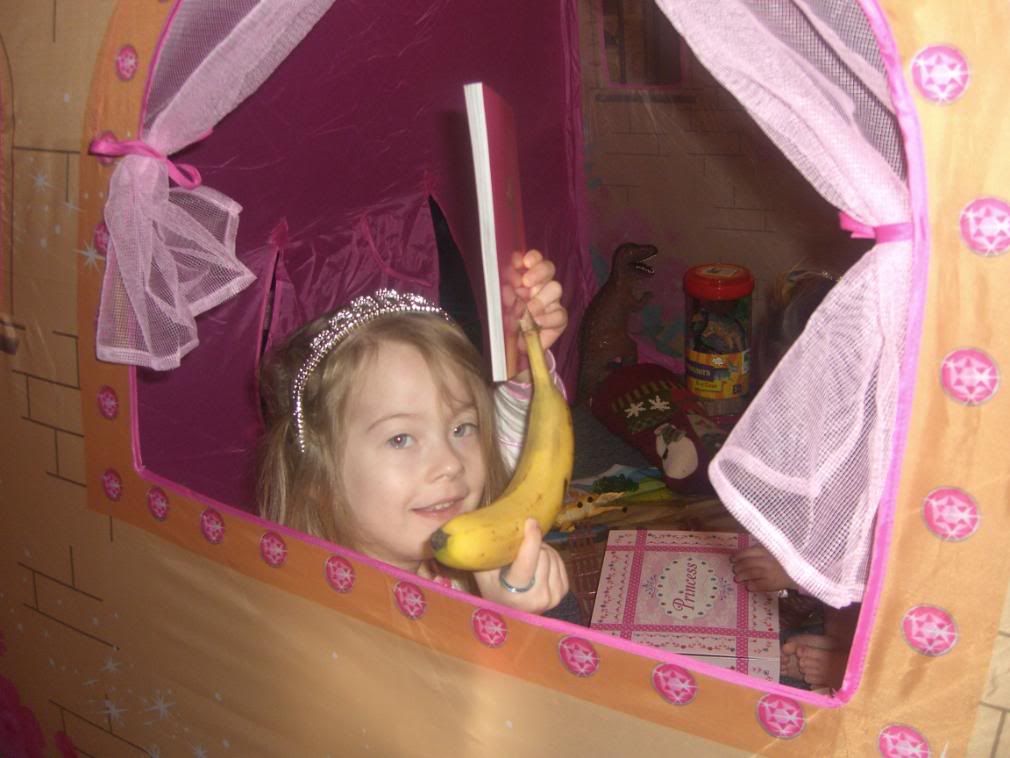 More to come later! I will be adding pictures from our family opening presents, opening presents with the Abersolds, opening funny gifts, and Christmas dinner!