The newlyweds are now married and off on their honeymoon! And the day went pretty well. I got to spend some time talking to family, meeting new people, and chasing after a deliriously tired 1-year old. Fun times.
But Lacy was practically perfect in her roll as flower girl! She took it so seriously. And she didn't even get scared! She's got to be the cutest little flower girl in the history of flower girls. Not that I'm biased in any way.
That's her in the dressing room, all ready to go. She's a natural in the job, you know. She loves having her picture taken and loves dressing up. She also follows directions well, and while she doesn't like crowds or being in the spotlight, if it is important enough, she can overcome her fears.
With the cute little ring bearers and the bride. Don't they all look so cute? The one on the left is Logan and the one on the right is, I believe, Wyatt. I accidentally left my program at the church so I can't double check based on that. Bummer. Anyway, Logan was supposed to help Lacy down the isle with the flowers, and Wyatt was to walk right along with them or in front of them, I'm not sure what the final verdict was (It didn't happen that way). They were both sweet little boys, and Lacy sure liked both of them!
I've never curled Lacy's hair before, so it was fun for her to get her hair done (and sprayed with sparkle hair spray!). She likes to choose the hairstyle she's going to have done each day, but I'm sure she would choose this hairdo every day if I would fix it for her!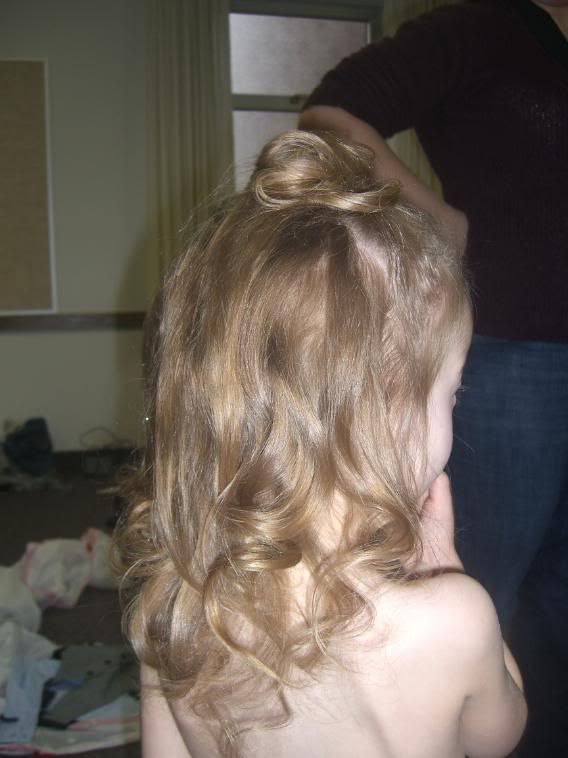 Lacy's eczema has gotten much better, thanks to a daily double dose of triamcinalone and atopiclair for her eyelids. She looks so much better than she did a week ago. We call the atopiclair her make-up and it makes it easier for her to put it on. But the biggest bummer of the day was that she is still a little sick, though no longer feverish. So while she got her hair done, I plugged in the nebulizer to help her breathe more easily. I'm pretty sure she has asthma, because it really does seem to help her breathing. Hopefully she'll only get asthma when she is sick already. Because I think they may make restless! She sure had trouble falling asleep tonight, but that may be from having such an exciting day today.
Rose was there with us, too. For most of the time, she was perfectly happy playing with a puppy in the women's dressing area.
But after a while, she couldn't handle it anymore and she ended up burning herself on a curling iron. It must have been barely warm enough to make her cry, because there are no red marks anywhere that I can attribute to a curling iron. Fortunately, Brenda, big Dave's wife, was there, and took Rose to the nursery. (If you're reading this, Brenda, thanks again SO MUCH! I loved being able to be there with Lacy on such a special day)
Right before the wedding procession began, Rose broke a glass ornament hanging off the stage. Yup, that's my kid causing all the ruckus. But at least she's cute! Probably I'm the only one who thought that today, based on her behavior! It probably wasn't as bad as I thought it was, but I'm extra sensitive to what my children are doing. I never want to be "that mom" with the rowdy kids. But often, I am.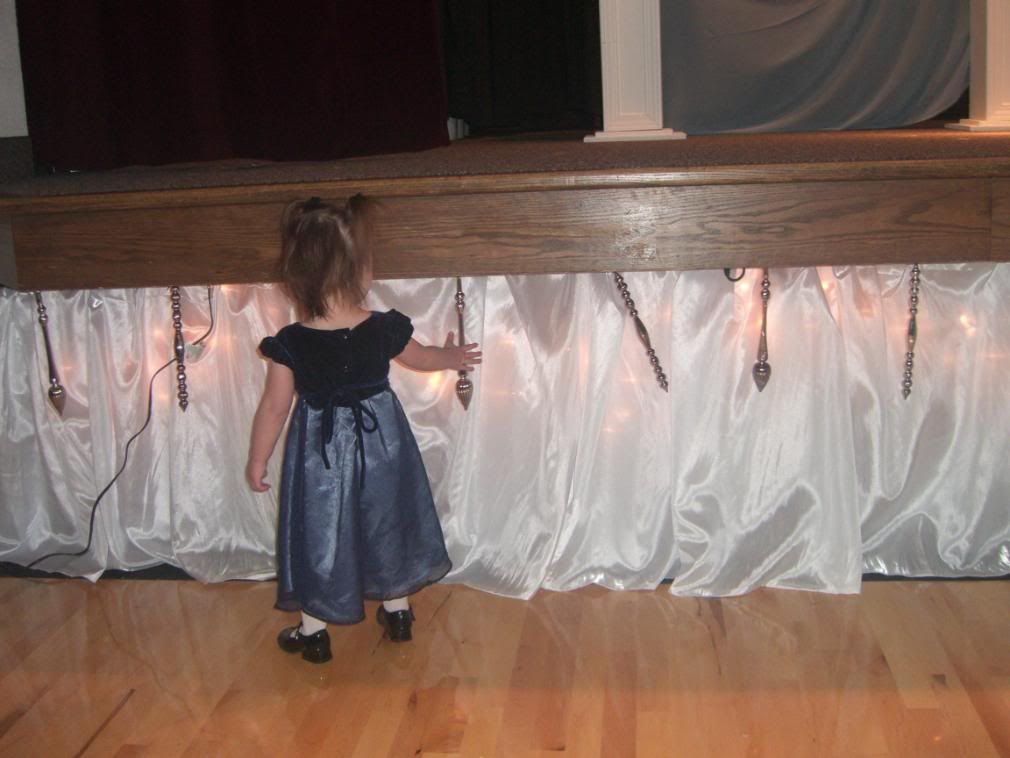 The procession began, a little bit late, with the groom and his best man (Jeremy) entering in through the side door. They waited on the stage with the branch president from the single's branch, who was performing the ceremony.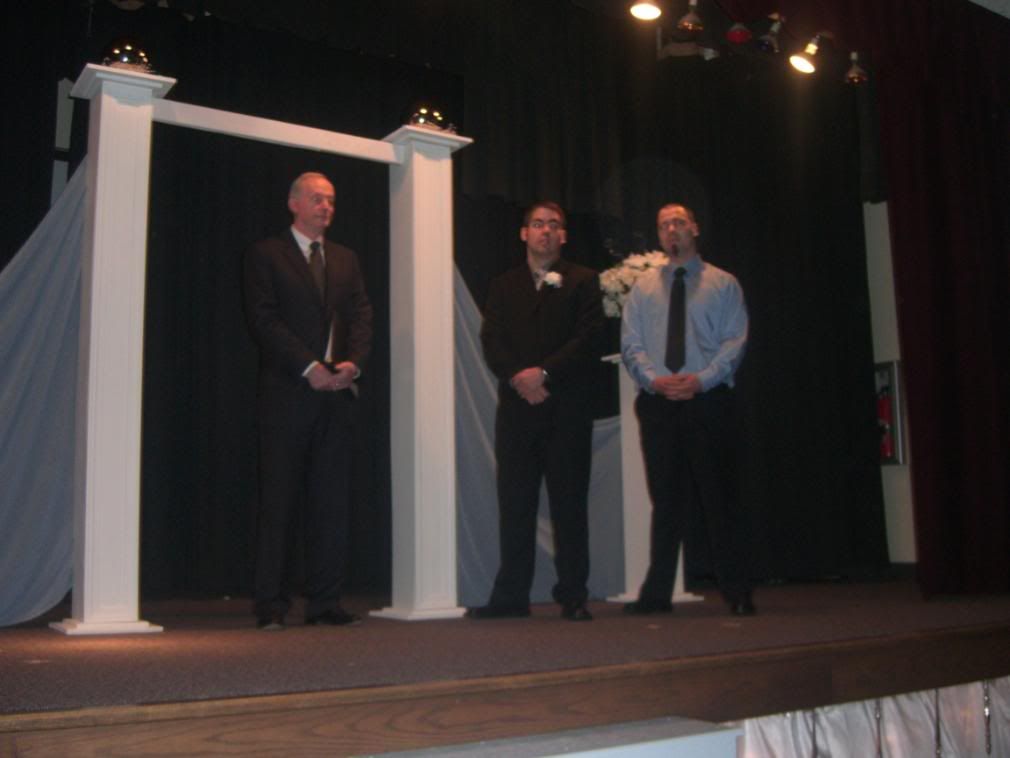 The processional music began, on the piano. Cannon in D. Very wedding-y. Nice piece, albeit a little cliched. First came our nephew, Jared, and Elisabeth, Julie's sister.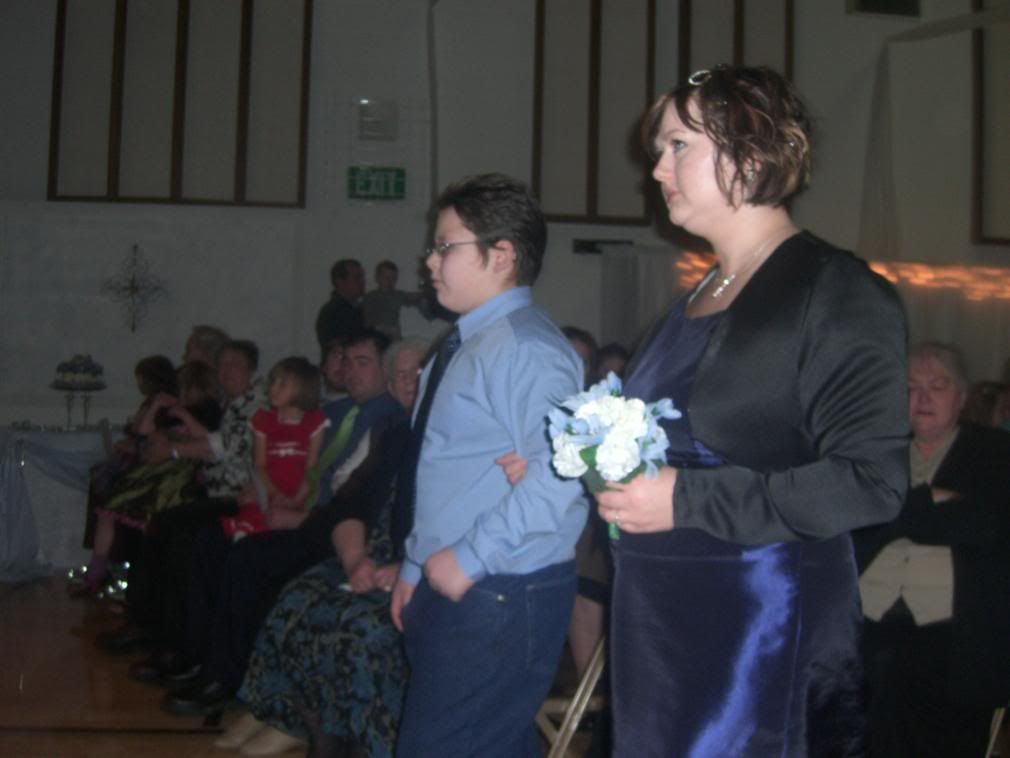 Next was Christopher and one of Julie's friends. I sure wish I had a program so I could put her name in! Oh well, not my wedding so I guess it's not as important for me to have all the names!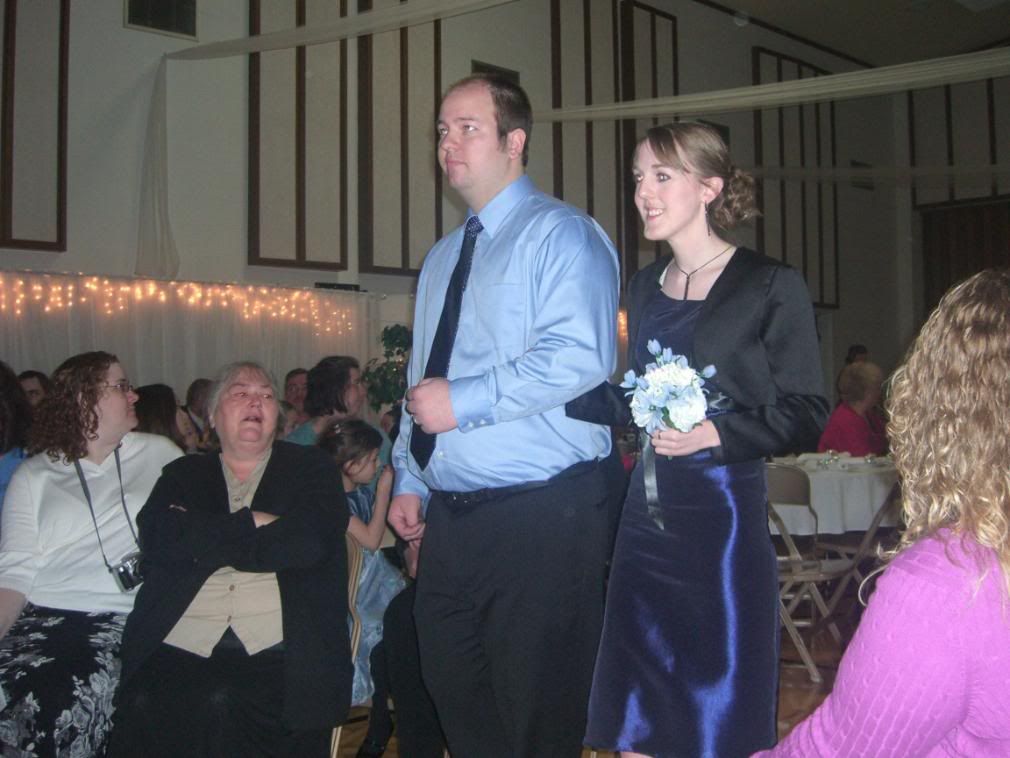 At this point Rose could not take it anymore. So Pete Nielson, Chris's father-in-law, took Rose, and her cousin Allison, and fed them treats. Thanks for all your help today, Pete!
Next was the world's best-looking groomsman and announcer extraordinaire. Yes, my hot hubby Dave walked down the isle with another of Julie's friends. I am embarassed just don't have anyone's names! Anyway, he was looking sharp, I must say, and you couldn't even tell that his boots crippled his feet the day before, nor could you tell he just got off working 2 12 hour shifts! It's a little fuzzy, but I'm hoping to get some better ones from some of the others who were taking photographs. The lighting was really poor, either that or my camera is ready to be replaced!
Somehow I totally missed the maid of honor coming down the isle. Just as well, since I don't have her name, either. She is one of Julie's sisters. I think I missed it because of Rose causing a commotion behind me!
(WARNING: the following paragraph was written by a gushing mother. Please roll your eyes and continue reading) Finally, it was my baby's turn! The three little ones were supposed to walk slowly together to the stage. Well, the boys practically ran, but Lacy, being ever so careful and good with following directions, walked very slowly, by herself, to the stage. She threw most of the petals right at the beginning of the procession, so she was out before she got up to where any of the people were sitting! I was so proud that she didn't get scared, not even a little bit, and did her job like the perfect little angel that she is. Doesn't she just look angelic??? What a little sweetie!
Because the boys bolted ahead of her, her daddy had to help her up on stage. Her legs are still too little!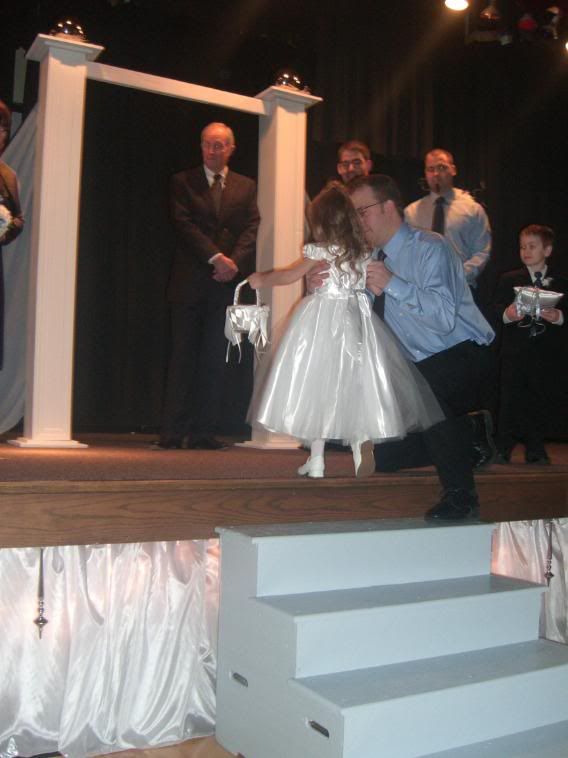 Oh yeah, the bride came down the isle next. Like anyone cared about that after seeing my gorgeous little princess! OK, Dave is telling me that people actually came to see her walk down the isle, not to see Lacy. Whatever.
In all seriousness, Julie was stunning! Her dress was absolutely gorgeous! Tim's a lucky man. Lacy's a lucky girl to have an aunt who knows all about the girly things in life, because her mother certainly doesn't! They walked down to a country song, I think it is "I Promise You," I'll have to ask Dave because I don't know for sure (not a fan of country music). I was actually surprised because I'm pretty sure Tim's not a fan, either! It sounded lovely. I'm not sure who did the vocals, but he sounded great. I had trouble getting a good picture of Julie because everyone was standing, per the tradition.
Yup, that's the best I could do.
After the father of the bride gave Julie to Tim, the ceremony officially began. Somewhere in there I had to run up to the stage to get a huge booger off Lacy's face. Yuck! Anyway, the ceremony was nice, short and sweet. OK, maybe not short and sweet enough for some members of the wedding party.
The branch president encouraged them to prepare to be sealed a year from now. Lacy did a good job standing there, though she did try to talk to me a little bit through the ceremony. But for the most part, she was quite still, and I'm sure the 15 or so minutes the ceremony lasted felt like an eternity to her!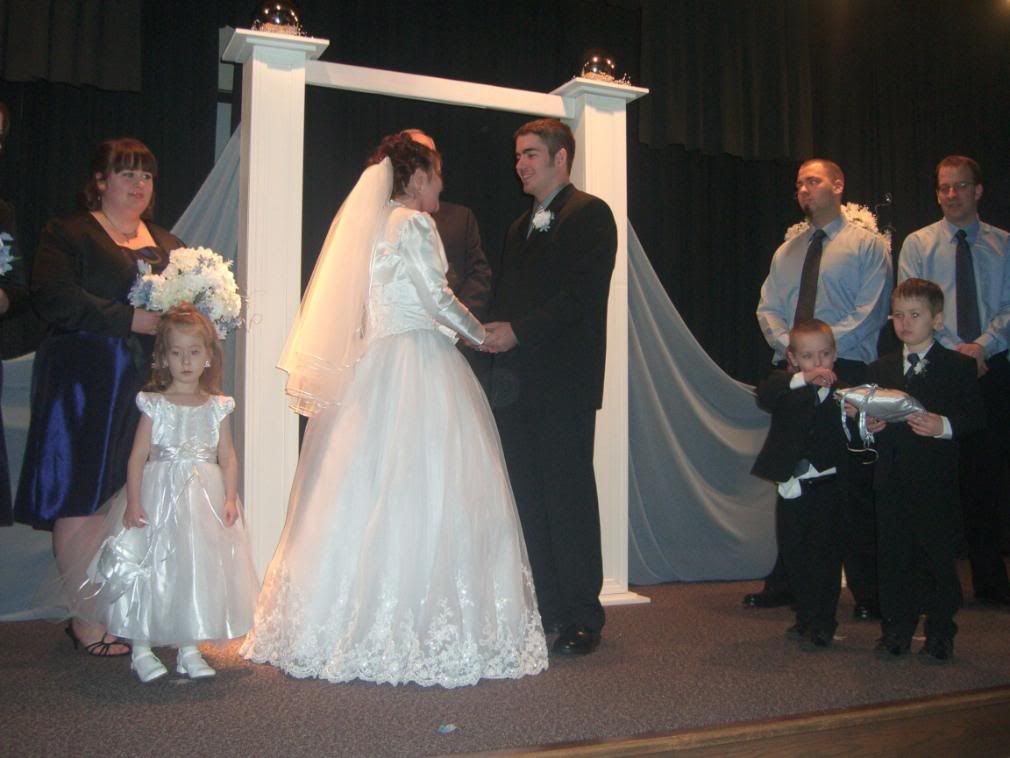 In LDS tradition, the ring ceremony is not a part of the official wedding ceremony. So after the the bride and groom kissed, they exchanged rings. I wish I had a picture of this, but they could not get the rings off for the life of them! So Dave, being the problem solver that he is, went over to his dad and asked him for a pocket knife, which they used to free the rings and complete the ring exchange! You know you're a redneck...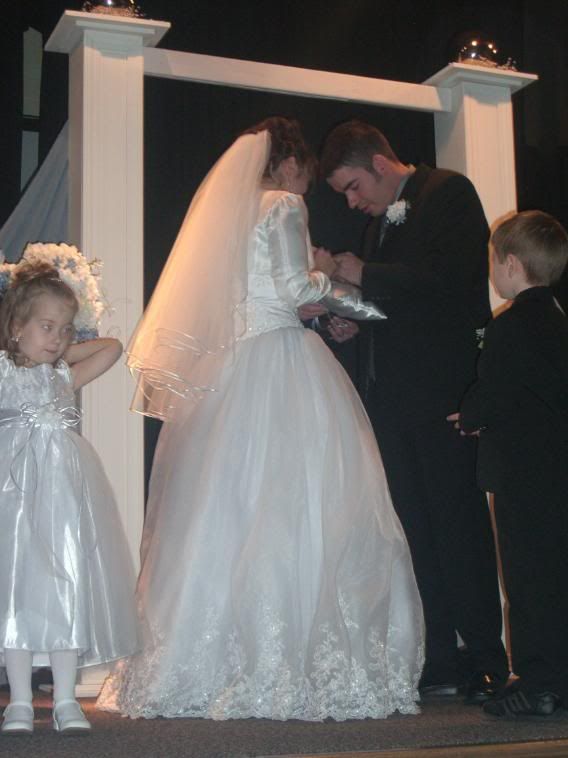 Then it was over, and the party began! Fortunately, this party included opening the nursery (which is the chapel overflow) to the gym, where the ceremony took place. Thank goodness, because I don't know what I would have done had this not been available! Rose was just not a happy camper, since her nap is usually at 11, and that's when the wedding started. She did enjoy hanging with her cousin Allison and Aunt Kelly.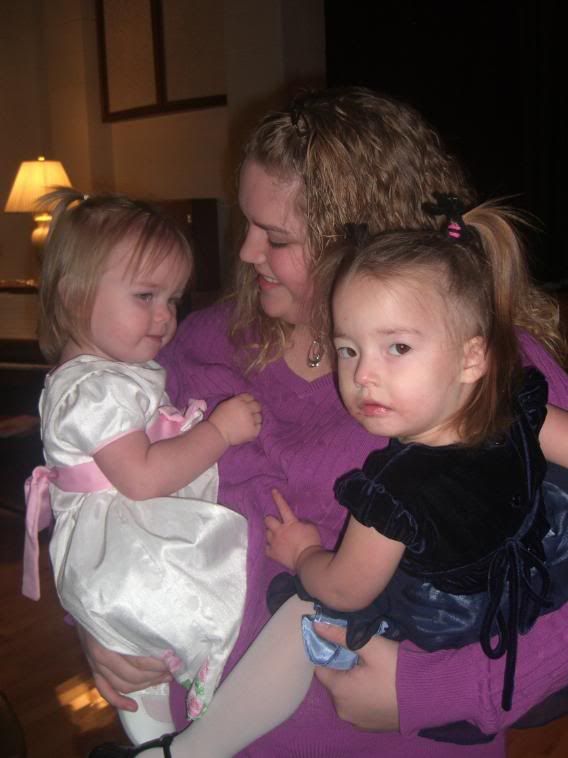 The cutting of the cake was very tasteful and nice. Personally I'm not a fan of the shoving of the cake into each other's mouths. I know some like to do that at their receptions, but personally, I like a nice clean bite of cake in the mouth, with any mess being accidental. They had cheesecake for their wedding cake! Yum-o! We actually took a whole cheesecake home with us. Great for the tastebuds, not so great for the sugar addiction.
I mentioned earlier that Dave was the announcer/emcee at the wedding. He certainly is the loudest of the boys, so he was the obvious choice for Tim. Lacy loved being part of the action, too!
The first dance was the father-daughter dance.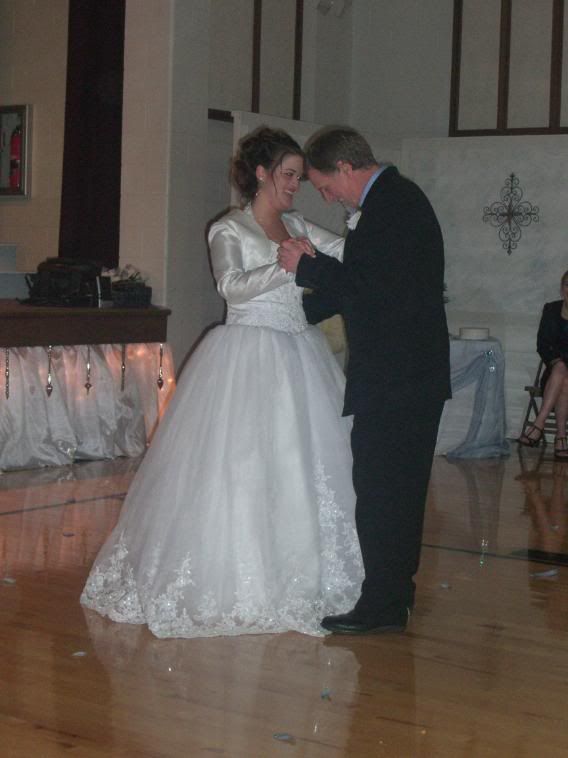 After the first verse, all fathers in attendance with daughters there were invited to join them in dancing. But Rose had to dance solo first. Dancing and music is her thing.
Of course Dave had to dance with his pretty princess Lacy! (I almost forgot, Lacy kept calling Julie "princess" at the wedding! She certainly looked like one!)
But Rose seemed to be a little jealous of all the partnered dancing going on, when she had no partner of her own to dance with!
So Dave, of course, had to dance with Rose as well.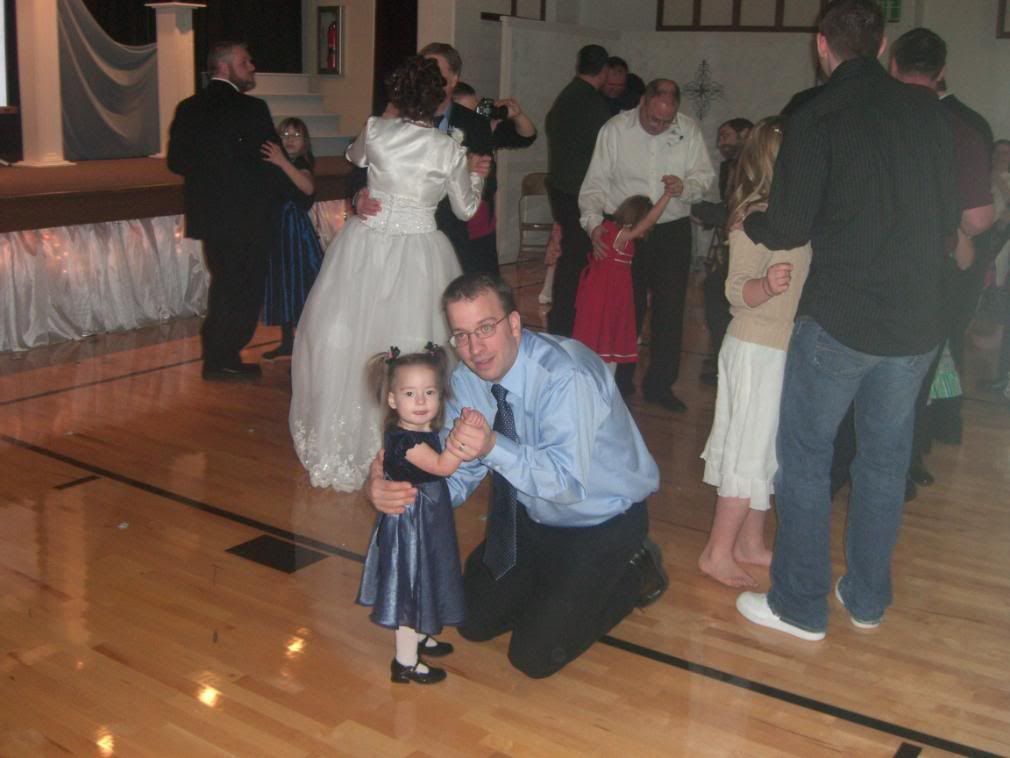 Next was the first dance as husband and wife. What a beautiful couple! I'm so excited they're going to be in our ward!
As the announcer, Dave got to tell some stories at the front. He talked about how Tim dated girls and sometimes brought them over to meet us when he lived at our house, and we liked a lot of them. He was actually engaged over the summer, and we liked his fiancee a lot. But that didn't work out, and he remained at our house for a couple more months. After he moved out, he started dating Julie, and we met her a few times. We knew there was something different, and immediately loved her. We were thrilled to find out they were engaged, and were anxiously awaiting this date! Dave also talked about his mother. She was a rock in their family, a wonderful person, and very close to all the boys. Dave said some very nice things about her, since she could not be with us at this very special event today. (OK, yesterday, since it's way past my bedtime and after midnight)
One special thing that happened at the wedding was that it snowed outside! Apparently there are pictures in the snow, but I don't have any. I'm waiting to get copies! I'll post them when I get them!
There were a couple of musical numbers, with a serious one "The Rose" (which I've actually sang at a wedding before), and a fun rendition of "Summer Lovin" from Greese. But it was called "Winter Lovin" or "October Lovin" or something, with words cleverly changed to fit Tim and Julie's situation.
The last event was the bouquet toss. I didn't get a good shot of that one unfortunately. It happened too quickly. There was going to be a garter toss, but Tim didn't feel comfortable with it, so it was nixed. Then they left in a sea of bubbles and went straight to their honeymoon. Best wishes, you guys! We love you!
Finally, Rose decided she couldn't take it anymore. So we got our family photo taken and got the heck out of there. Rose was asleep within 5 minutes of being in the car. She slept for about 3 hours today, which is huge for her, especially lately with her 30 minute naps. She looks pretty far gone, doesn't she?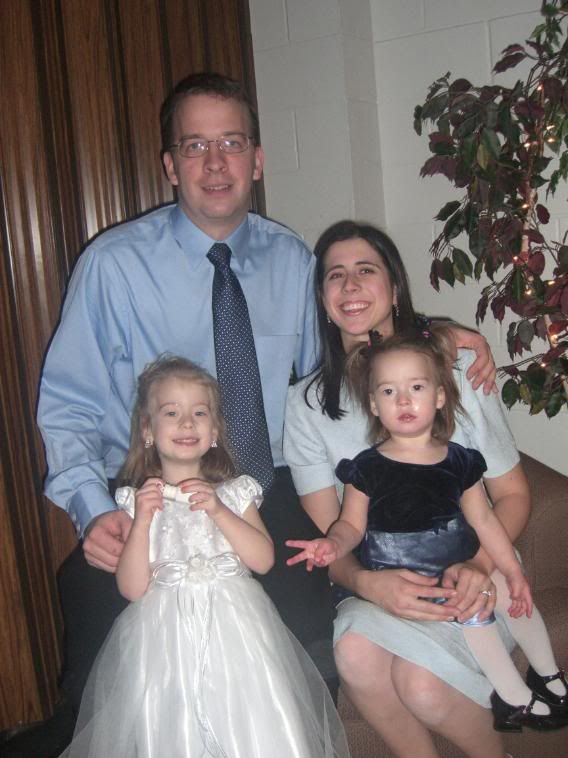 Two last photos and my blog is complete! I had to squeeze in some of my two wedding party members! And I have to applaud them for spelling Lacy's name right. It seems my leaving out the "e" makes it nearly impossible for most people to be able to spell her name correctly!