Lacy gave her first talk in Primary (our church's children's organization) today. It was very cute. Her topic was
temples.
We prepared throughout the week by talking about temples, and gathering pictures for her to use. This morning, we tried practicing with her, but she refused, because she was giving her talk in Primary later, not at home. She also insisted that she would give the talk by herself when she went to Primary.
We got to Primary, and she got to sit up front to wait for her turn to give the talk. Dave discreetly snapped a quick picture of her waiting for her turn.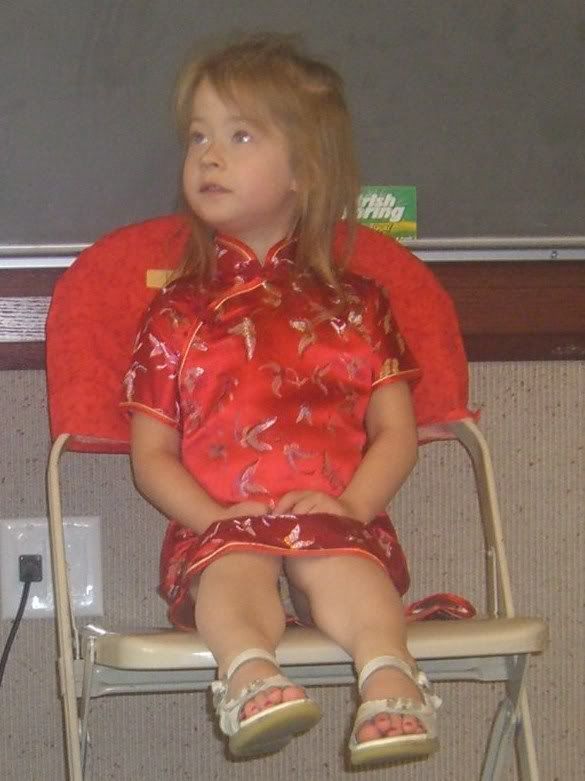 When it came time to give her talk, she went right up, and said, "Dad, can you help me?" So of course he helped her. She wanted him to tell her exactly what to say, which is what we were trying to avoid with practicing beforehand. Oh well. She held up a family photo, a picture of the
Seattle Temple
, and a picture of Jesus. She spoke well and clearly into the microphone, and didn't hesitate at all. She's really blossoming, and is becoming less and less shy. I'm so proud of her! I stuck around until after singing time, because I'm subbing on the piano next week, including playing one song in Sacrament meeting for Father's Day, so I practiced it once through with the kids. I also played piano in
Relief Society
today.
Rewind just a second here... at the beginning of church, there were some investigators with the missionaries that we had met last week. Lacy really took a liking to the woman, Nancy, and held her hand up until church started. She led her to our pew and insisted she sit with us. Of course, she didn't want to sit next to her once church started and sat, briefly, next to an older woman in our ward. Then, both girls were excessively loud and disruptive during Sacrament meeting. Lovely. And then, it went over about 15 minutes, so we got to tame the crabbiness even longer. Lucky us.
After church today we were supposed to have some people over for dinner, but the wife got sick and they couldn't make it. Just as well-- Dave was able to take a friend out fishing before he undergoes a painful surgery tomorrow. He had a good time, caught some fish, and is now trying to get a little sleep before the week starts all over again tomorrow! While he was gone, a friend, Grant, brought over some steelhead that he caught over the weekend. Yummy! We're having that for dinner tomorrow.
Yesterday I attended a funeral for a friend of mine from high school. Very sad. She left behind two little girls, age 5 and 3, and a husband. It was the first Catholic funeral mass I have attended, and I appreciated the experience. I got to see several of my girlfriends that I haven't seen in a long time, and it was nice to see them, of course I would have rather seen them under different circumstances. While I was gone, my sister watched my kids. Afterward, we had a "covered" wagon picnic in the park as a reward for Regan. She
blogged
about it and included some cute pictures from yesterday.
After our pioneer picnic, I loaded up the girls and went to Dairy Queen for some time with my girlfriends. I met Jenny, Erin, Chanda and Angela there. I was glad I wasn't the only one with kids! Lacy and Jenny had an instant bond and were BFFs, at least for the duration of our trip, and she fell in love with Angela's newborn baby Aurora. I got the little kids cones, and got myself a small chocolate sundae. I'm trying not to go overboard, since I'm trying to lose a little weight, but I'm not depriving myself either. Anyway, we had a nice time, and chatted for about an hour and a half before my kids said, through their actions, "IT'S TIME TO GO!" We had fun, and hopefully we'll get to see Jenny again soon. She hadn't been to Washington in 5 years! Don't wait that long for your next trip, Jenny! Everyone else was local, so hopefully we can all get together soon. I see Chanda a lot, since she lives across the street from my sister. Fun!